Andrew Gifford: Exploring Light in the Landscape, Painting in Series 11/12 June
June 11, 2020, 9:15 am

-

June 12, 2020, 4:00 pm

£225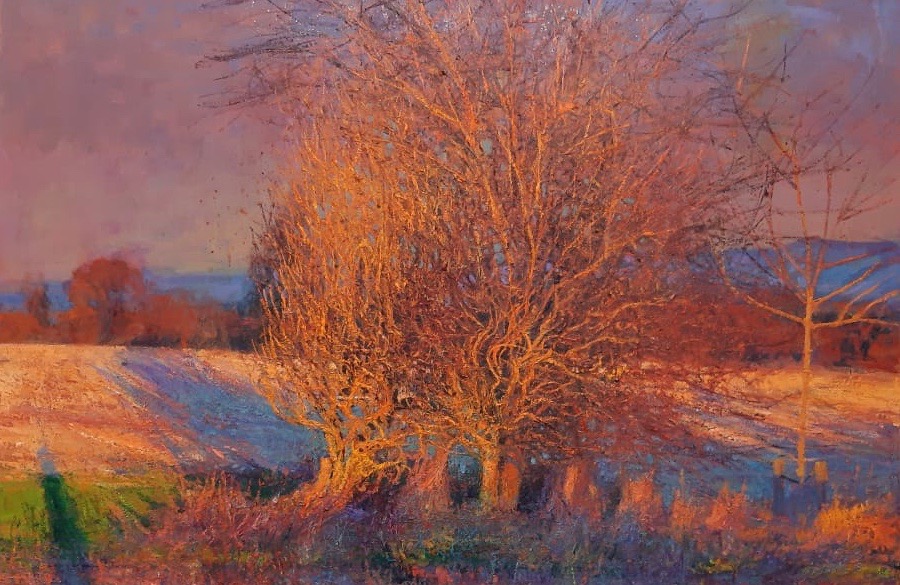 11 June 2.0 pm to 9.0 pm and 12 June 9.15 am to 4 pm
This is an extraordinary opportunity to paint with the leading landscape artist, Andrew Gifford, famous for his luminous series paintings which capture the fleeting effects of light.
Students will learn how to execute a series of quick studies, rendering the effects of light on the landscape.  On day one we  start at 2 pm and work through to sunset with a break for supper, to take advantage of the evening light. The following day we will start at 9.15 am till 4.pm and move to a different location learning how to compose a composition.
Andrew will give an introductory talk on brushes, pigment, mediums, glazes and colour mixing. He will help students understand the nature of paint and demonstrate how to put down the ground layers and apply the colours wet in wet. Having completed your initial studies he will demonstrate how to  build  up the paint layers, applying subtle, transparent glazes. By working on several paintings at once, students will free up their techniques and experiment in an unpressurised manner. Andrew will give numerous demonstrations as well as tuturing and encouraging students on an individual basis.
Andrew Gifford's paintings  have been widely exhibited, including solo public shows at Leeds City Art Gallery (2004), Fruitmarket Gallery Edinburgh (2001) and Middlesbrough Art Gallery (2000). Collections include the New Art Gallery, Walsall and Chatsworth House and private collections in Europe, USA and Japan.He is represented by The John Martin Gallery in London.  https://www.jmlondon.com/artists/andrew-gifford/
WHAT TO BRING
We will provide painting boards
Portable Easel, Apron, Kitchen roll, Rags, 2 Jam jars, palette – a bit of hardboard is fine,  Palette knife.
Set of Daler-Rowney Georgian oil colours starter pack plus an additional large tube of white paint (beginners only). If you are an experienced painter please bring your normal paints.
Zestit for diluting paint and cleaning brushes. White spirit and turpentine are highly toxic and are not allowed.
Brushes.
For small brushes, we recommend 2 x packets of the Cass Art Hog Bristle Brush Set of 6, see link…
www.cassart.co.uk/painting/brushes_2/hog_2/painting_product_type_brushes_cass_art_hog_set_of_6_htm.htm
For large and medium brushes we recommend starting with cheaper ones from B&Q or similar. You will need flat brushes, measuring 0.5 – 1.5″, three of different sizes.
You can buy all these from art suppliers such as Cass Art.
To book a place please click the link below or for more information, email:  courses@moncrieff-bray.com
Terms and Conditions
Booking is on a first come first serve basis and your place will be confirmed on receipt of payment.  We offer a full refund  if notified 4 weeks prior to the start of the course.  After this we will refund if we are able to find a replacement.   We keep a waiting list for each course and you may pass on your place to friends and family.
Tickets are not available as this event has passed.