Looking at Turner: Experimental Watercolour with Julie Collins 11/12 May
May 11, 2020, 9:15 am

-

May 12, 2020, 4:00 pm

£225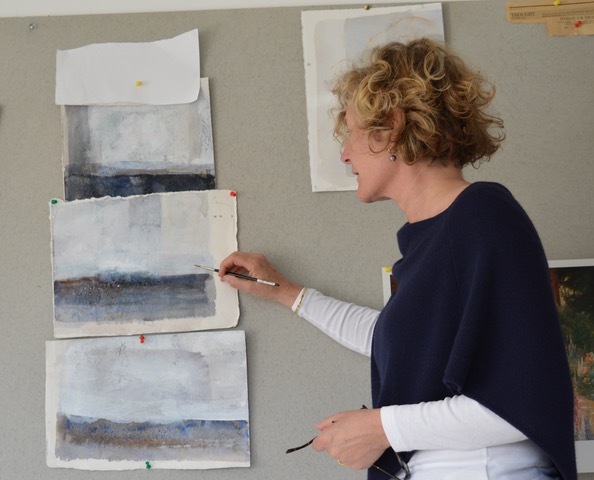 Turner famously wrote  'It is only when we are no longer fearful that we begin to create.'
9.15 – 4 pm – suitable for all levels 
Arguably the greatest watercolorist of all time Turner has inspired generations of artists with his revolutionary techniques which turned conventional 19th-century painting on its head. He considered his watercolours to be sketches and allowed himself limitless freedom in their execution.
The main focus of the course will be on landscape painting as well as still life. Julie will demonstrate several working methods and techniques. She will discuss colour theories and tone, colour mixing, composition, materials and the pros and cons of various watercolour tools and some mixed media techniques. Students will paint  both indoors and outside in the landscape painting directly from nature. Weather permitting we will spend an afternoon in Petworth Park where Turner created some of his most iconic paintings.
Julie will  introduce you to  exciting watercolour techniques and encourage you to  let go and be brave with this challenging, versatile medium. You will learn basic techniques but also be inspired to experiment and explore. Julie will focus on various elements of a successful watercolour painting to ensure that you take home your own accomplished work. You will come away having developed your confidence as an independent painter,  planning and executing  far more complex works. This is a creative, exciting workshop for beginners and experienced painters who want to develop further.
Julie Collins is a highly successful painter who exhibits widely in the UK. She has received numerous awards for her paintings, including the Royal West of England Academy, Watercolour Award, 1st Prize in 2016 & 2019, Discerning Eye –Regional Award for best painting from London and the South East and many awards from the Royal Watercolour Society, London. She is a highly experienced tutor and author of numerous art books about watercolour and colour mixing. She writes regularly for the Artist magazine. www.juliecollins.co.uk
WHAT YOU NEED TO BRING
Watercolour Paints
Please bring whatever you have -If you are starting from scratch a small Cotman box is available from Cass Art
https://www.cassart.co.uk/painting/watercolour-paints/painting-sets/cotman-sketchers-pocket-box-including-1-artists-watercolour-half-pan-cass-exclusive.htm
The colours you will need are: French ultramarine blue, Cobalt blue, Winsor lemon or Lemon yellow,New gamboge yellow or
cadmium yellow, Winsor orange or cadmium orange, Yellow ochre or raw sienna,  Burnt sienna, Winsor green or Hookers green, Permanent rose, Winsor violet, Winsor red or Cadmium red, Permanent Alizarin crimson, Indian red or Light Red
Watercolour Brushes
If you need to buy brushes, you can buy a set online from Cass Art
https://www.cassart.co.uk/painting/brushes-2/brush-sets/pro-arte-prolene-plus-series-007-008-watercolour-brush-cass-exclusive-set-of-5.htmr
Sizes –1,4 6 10 or 12 also a very large brush for working big and old brushes for mixing up  Also:  Pencils- 2H  &  2B, Putty rubber, Ruler, Masking tape, Jam jars for water, Kitchen roll, Sketch pad Notepad and pen, Mixing palette (we can provide) Drawing board
ALL PAPER IS PROVIDED
To book a place click the link below
Terms and Conditions
Booking is on a first come first serve basis and your place will be confirmed on receipt of payment.  We offer a full refund  if notified 4 weeks prior to the start of the course.  After this we will refund if we are able to find a replacement.   We keep a waiting list for each course and you may pass on your place to friends and family.
Tickets are not available as this event has passed.