Lyrical Abstraction inspired by Ivon Hitchens with Lucy Powell
October 10, 2019

-

October 11, 2019

£225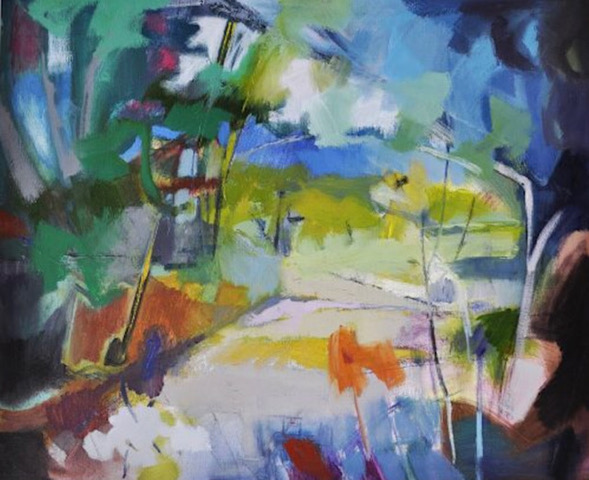 9.15 am – 4.0 pm.  Ivon Hitchens (1893-1979) is the most famous modernist Sussex painter, who lived just a few miles away from the gallery. This will be an exciting course, in which you will look at his abstracted vision of the landscape, and his garden and flower paintings. Ideally you will paint in the open air, but if the weather is inclement, in the studio, working from flower still lives and looking out into the landscape.
Over our two days you will be encouraged to recognise the essential compositional division and phrasing when planning a painting, paying particular attention to balance, repetition, and the push/pull, up/down, light/dark, hard/soft, opaque/translucent…. opposites which excite our senses. There will be guidance with ideas for creating a new harmonious palette, which you will mix, and from which you will produce some expressive and beautifully orchestrated paintings.
Lucy has exhibited at the gallery for the last eight years and has a huge following.  She studied in Florence and at Chelsea and Wimbledon Colleges of Art.  Her paintings conjure her domestic surroundings and the French and Sussex landscape, exploring the qualities of paint, texture and composition.  Her paintings evoke a feeling of experiences –  of forgotten places and moments. 'Sometimes what I know about composition takes over, at other times, I find myself caught by the struggle between light and translucency, or the tension between colour and form.'
Price: £225. To include primed painting boards and a delicious lunch.
To book a place see link below or telephone 07867 978 414 for more information.
WHAT TO BRING
Apron, Kitchen roll, Rags, 2 Jam jars, Disposable paper palette, Palette knife.
Set of Daler-Rowney Georgian oil colours starter pack plus an additional large tube of white paint (beginners only). If you are an experienced painter please bring your normal paints.
Zestit for diluting paint and cleaning brushes. White spirit and turpentine are highly toxic and are not allowed.
Brushes.
For small brushes, we recommend 2 x packets of the Cass Art Hog Bristle Brush Set of 6, see link…
www.cassart.co.uk/painting/brushes_2/hog_2/painting_product_type_brushes_cass_art_hog_set_of_6_htm.htm
For large and medium brushes we recommend starting with cheaper ones from B&Q or similar. You will need flat brushes, measuring 0.5 – 1.5″, three of different sizes.
Portable Easel.
You can buy all these from art suppliers such as Cass Art.
Tickets are not available as this event has passed.
This course is currently fully booked but we almost always have cancellations so please do fill in the form below so we can put you on the waiting list. We will reply immediately and let you know how far up the list you are.