A Time Line Through Colour, with Leonie Gibbs … Walking with Bonnard, Matisse, Fergusson and Earl Haig 15/16 September
September 15, 2020

-

September 16, 2020

£225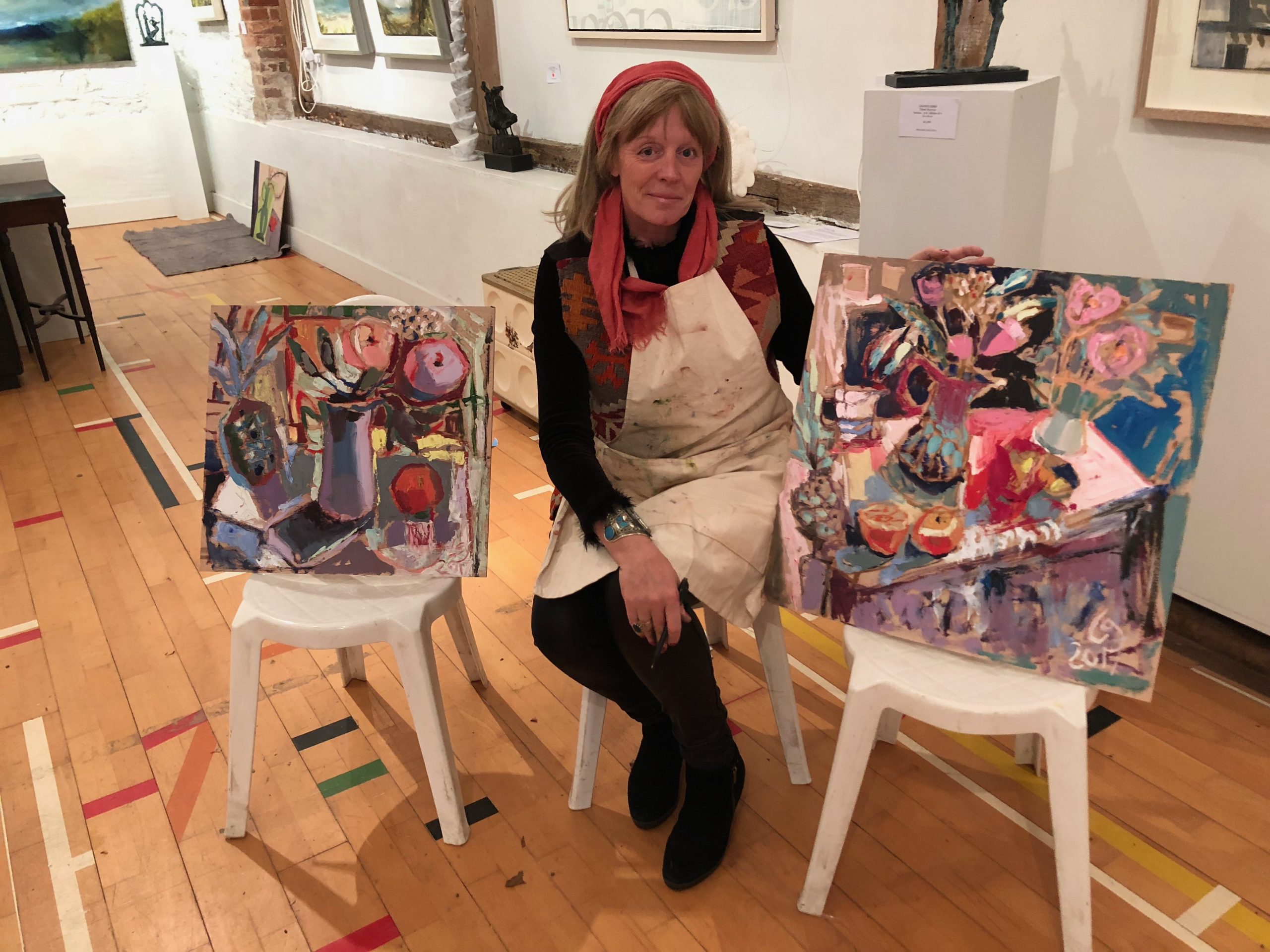 15 – 16  September,  9.15 am – 4.0 pm daily.
Join us for a two day painting course in the gallery with renowned Scottish artist and sculptor Leonie Gibbs. www.leoniegibbs.co.uk.
This is an adventure into the world of colour, looking at four artists who have most inspired Leonie.  Over two days, Leonie will guide students through the techniques of oil painting, liberating inhibitions to produce creative and exciting results.  The focus will be on  learning to scupt  with paint, putting one colour against another to  create a three dimensional form.  Through the joy of discovering painting in this way people will find new avenues.  The course will be studio based but weather permitting students can venture into the garden to explore colours found in sunlight and shadow.  All levels of experience welcome using oils or acrylics.
Leonie lives in the Scottish Highlands and trained at Wimbledon and Edinburgh Art Schools. Her work continues the traditions of the Scottish colourists. In her  recent paintings she has been 'exploring the intensity of the pigments, putting crimson alizarin next to cadmium red. Then surrounding the brights with earth colour. It's rather like mixing people at a party and seeing the chemical reaction. ' The journey of paint is exhilarating, I have to be brave enough to face the challenges and deal with them.  Some times out whiting myself, keeping it lively  and fun  with an element of mystery.'
WHAT TO BRING
Apron, Kitchen roll, Rags, 2 Jam jars, Disposable paper palette, Palette knife.
Set of Daler-Rowney Georgian oil colours starter pack plus an additional large tube of white paint (beginners only). If you are an experienced painter please bring your normal paints.
Zestit for diluting paint and cleaning brushes. White spirit and turpentine are highly toxic and are not allowed.
Brushes.
For small brushes, we recommend 2 x packets of the Cass Art Hog Bristle Brush Set of 6, see link…
www.cassart.co.uk/painting/brushes_2/hog_2/painting_product_type_brushes_cass_art_hog_set_of_6_htm.htm
For large and medium brushes we recommend starting with cheaper ones from B&Q or similar. You will need flat brushes, measuring 0.5 – 1.5″, three of different sizes.
Portable Easel.
You can buy all these from art suppliers such as Cass Art.
We will supply primed painting boards
To book a place please click the link below or for more information call us on 07867978414 or email courses@moncrieff-bray.com
Terms and Conditions
Booking is on a first come first serve basis and your place will be confirmed on receipt of payment.  We offer a full refund  if notified 4 weeks prior to the start of the course.  After this we will refund if we are able to find a replacement.   We keep a waiting list for each course and you may pass on your place to friends and family.
Tickets are not available as this event has passed.