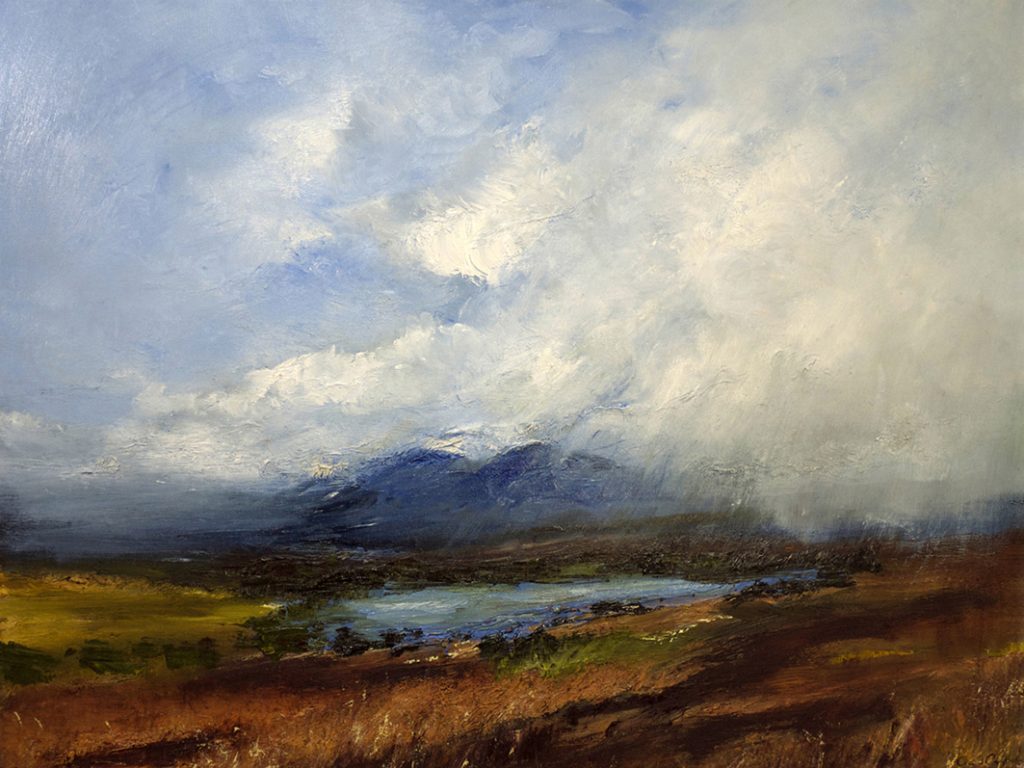 Oona Campbell Landscapes
4th November 2018
Oona Campbell's recent paintings are united by the dramatic cloudscapes that roll across our skies and nature's light effects especially at dawn and dusk. A group of paintings of Petworth Park Lake at sunset forms the focus of the show together with images of the long sandy beach 
of West Wittering. Further afield, Oona explores the mist of an early morning on the Jurassic coast of Dorset and the wild moors of Scotland's Applecross Peninsular.
Oona has been familiar with Sussex since she was a student at Brighton Art School where she fell in love with the South Downs but is equally at home exploring the Highlands. She was delighted to return to Petworth Park explaining, 'Over my years of visiting there, no matter the weather, it has always been a place of calmness and beauty. Among these new Petworth paintings there is an early spring evening where the golden sun on the lake meets the mysterious night as it gently folds in. The painting captures that evanescent moment. Sunset and evening light is never quite the same, and always inspires thoughts for painting'.
Speaking of the exhibition Oona describes her painting process. 'My paintings start with observation and develop with memory and imagination. For me physical observation is a necessary prelude to painting, but it is memory of the atmosphere that allows the subject to burgeon. Memory enables a vivid reliving of the dynamic qualities of watery mist, the setting of the sun, lashing storm rain, or the aural turbulence of thunder. Landscape is always changing before your eyes, and in an instance you can sense a picture being born.'
Juxtaposed with Oona's figurative work we are showing, Abstract landscapes by Jonathan Gibbs, Susie Leiper Tuëma Pattie and Sarah Warley Cummings
Tuëma Pattie lives in Duncton and has painted both the Sussex landscape and further afield. She is a long-term exhibitor at the gallery with her exuberant paintings celebrating the joy of nature. Sarah Warley-Cummings is another Sussex artist who has made a series of abstract prints exploring the shapes and colours of the countryside. We are very lucky to exhibit two Scottish artists. Susie Leiper, whose work combines calligraphy and landscape. One of the country's finest calligraphers she is also trained in the techniques of Chinese art. Her work unites eastern and western traditions of painting. Jonathan Gibbs is a senior tutor at Edinburgh College of Art and a leading wood engraver his multi-layered paintings combine present observation with a life-time of images and motifs remembered.
OPENING HOURS
Wednesday to Saturday 11 am to 4 pm but we welcome visitors by appointment at any time.
FURTHER INFORMATION: contact. Elspeth Moncrieff
mail@moncrieff-bray.com Tel: 07867 978 414 – www.moncrieff-bray.com
More Press Release